Fake PayPal.com or eBay.com emails



DomainAvenue.com has become aware that scam emails which attempt to fool PayPal.com and eBay.com customers into handing over sensitive credit card account information has been sent to thousands of Internet users.
These fake emails, which appeared to have been sent to users at random, purported to be part of a security check. PayPal.com or eBay.com customers who received these emails are encouraged to enter their details to fraudulent sites. As is common with such scams, the URL used in the emails is cleverly encoded to disguise the true location of the Web sites. The destination pages are designed to look like the genuine eBay.com or PayPal.com Web sites. Only tell-tale signs, easily overlooked, like spelling mistakes, give the game away.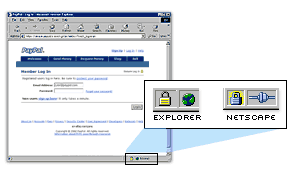 Both PayPal.com and eBay.com are aware of this scam and have advised users to avoid divulging account information in response to these emails. Users are advised to contact them directly if they have any questions or concerns.
Remember, reputable companies will never ask you to provide security details via such means -- if in doubt, be safe and ask first.
Other possible scams or alerts



.EU Domain Pre-Registration Alert
Fake renewal notices from Melbourne IT imposter



Wyith Limited is the official Registrar of .IT domain names with the Registration Authority Italiana (Italy), Registrar of Denmark .DK domain names with DK-Hostmaster (Denmark), Registrar for French .FR domain names with AFNIC (France), Registrar for .UK Internet domain names, Nominet UK Ltd (United Kingdom), Registrar of Austria .AT domain names with NIC-AT (Austria), Registrar of Filipino .PH domain names with Domains PH (Philippines), Official Partner of the Russian Regional Network Information Center for .RU and .SU (Soviet Union) names, Registered Reseller of Australian Domain Administration (auDA, Australia) of Australian .AU domain names, and Official Reseller of the Vietnam Registrar HI-TEK (Vietnam).
Wyith Limited is also a Registrar member of the Hong Kong Internet Registration Corporation Limited (HKIRC), a non-profit-making and non-statutory corporation responsible for the administration of Internet domain names under the .HK ccTLD.





Wyith Limited d/b/a DomainAvenue.com is the Key Strategic Channel Partner of the Melbourne IT Limited d/b/a Internet Names Worldwide, a Gold Level VIP Partner of Network Solutions, Inc. (USA), an Authorised Reseller of TPP Internet in Australia, a Premier Partner of Web Commerce Communications in Malaysia, an Authorised Agent of ChinaDNS d/b/a PayCenter.com.cn (China) (ChinaDNS is also a CNNIC-accredited registrar), a Reseller of Register.com, Inc. (USA), Tucows and a Partner of IP Mirror (accredited registrar of ICANN and SGNIG in Singapore).
Please also check out the latest ICANN's Registrant Educational Materials, and Registrants' Benefits and Responsibilities, at: https://www.icann.org/resources/pages/registrant-rights-2013-09-16-en.